From my experiences using public transport to navigate my way through the island, I can sum the rail and bus network like this:
Travelling by train is very reliable with trains leaving on time and arriving within ten minutes or so of the scheduled arrival time, but the network is limited. The mainline links Cagliari via Oristano to Ozieri-Chilvani, before branching off to Sassari & Porto Torres in the northwest or Olbia in the northeast.
When it comes to travelling by bus and coach, the routes are extensive covering almost every town, but I have found the schedules to be unreliable, some cities are restricted to one or two buses a day, and occasionally there are no buses during the school holidays.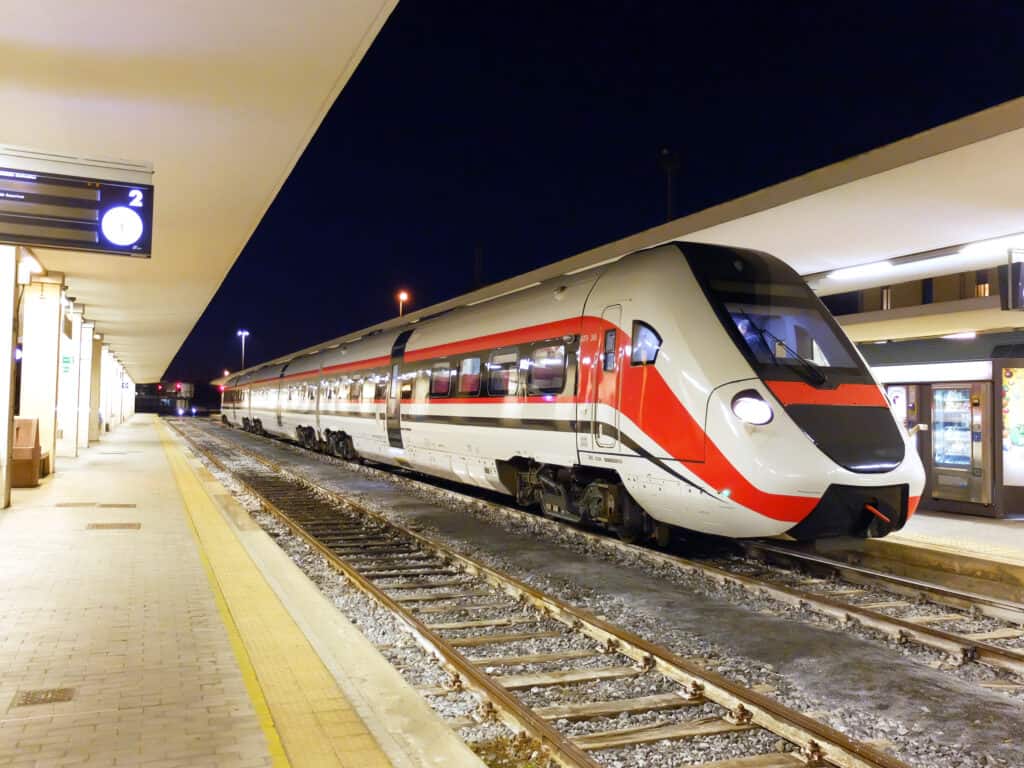 Travelling By Train In Sardinia
The train network is pretty good; the trains connect most of the larger towns, from where the bus networks link up the rest of the island if you need to travel to another town or village.
Sardinian Train Operators
The trains are operated by two different companies: Trenitalia (Ferrovie Dello Stato Italiane) & ARST (Azienda Regionale Sarda Transporti)
The trains linking Cagliari to nearby Iglesias and Carbonia are frequent, as is the route in the north that connects Sassari and Alghero.
Is Train Travel Expensive?
I have put the prices below, for traveling across the rain network. You may be able to find lower rates by booking further in advance or looking for an offer. The fares can be surprisingly cheap the longest journey possible is from Cagliari to Oblia in the northeast, its a 3 hour 30 minutes journey only costing €18. All train fares are calculated by the distance traveled.
Chance Of Delays?
Traveling by train can sometimes be slow, a there is the chance of delays. Because some parts of the rail network only have one track, meaning that if an opposing train is delayed, it can have knock-on effects on other journeys.
Where Can I Find Train Schedules?
You can head to the Trenitalia website or use a travel app on your phone. The schedules can also be found on boards at every station or at local tourist information shops.
Trenitalia and ARST schedules can be found by searching below using Moovit, which is a great resource for getting train and bus times in Sardinia.
How To Buy Tickets?
Buying Tickets Online
You can purchase your tickets online on the Trenitalia website (you can change the language to English, German or French) You can also buy tickets on popular travelling apps like trainline.com or olio.com (GoEuro.) Buying online will give you the option of purchasing a flexible ticket.
Buying Tickets At The Station
Tickets can also be purchased at stations either in person or at machines. At some smaller stations, tickets can also be bought from a tobacconist.
Validating Paper Tickets
In Italy and Sardinia, if you buy a paper ticket, it's essential to get it validated. There are small machines located around the station that punch and date your ticket. Usually, they can be found by the side of the doors leading on to the platform.
If you didn't have time to buy a ticket without missing your train, then you can buy on board with the conductor, but not there will be an extra charge.
Find A Window Seat And Take In The Countryside
I have enjoyed all of my train rides through Sardinia, its nice to sit back and look out at the beautiful landscape, as it goes by. There are also many chances to spot Nuraghi through the window. The trains can get quite full during school runs, in the early morning and late afternoon.
ARST Train Journeys
Macomer - Tirso - Nuoro 

Journey time: 1 hour 20 minutes (59.31km)

Price: €4.30          

View PDF Schedule
Sassari - Sorso

Journey time: 37 minutes (10 km)

Price: €1.90
Sassari - Alghero

Journey time: 1 hour 5 minutes (30 km)

Price: €3.10

View PDF Schedule Updated 7th April 2019
Sassari - Nulvi

Journey time: 1 hour 50 minutes (35 km)

Price: €1.90
Monserrato - Isili

Journey time: 2 hours 5 minutes (70 km)

Price: €6.10

View PDF Schedule Updated 24th June 2019
Trenitalia Train Journeys
Cagliari - Olbia

Journey time: 3 hours 30 minutes (275 km)

Price: €18
Cagliari - Sassari - Porto Torres

Journey time: 3 hours 40 minutes (235 km)

Price: €18
Cagliari - Sassari

Journey time: 3 hours 15 minutes (215 km)

Price: €16.50
Cagliari - Iglesias

Journey time: An hour (57 km)

Price: €4.30
Cagliari - Carbonia

Journey time: 1 hour 5 minutes (65 km)

Price: €4.90
Italian Phrases That May Be Helpful
Dov'e la stazione dei treni? – Where is the train station?
Dove si comprano i biglietti? – Where can I buy ticket?
Un biglietto per (Alghero), per favore? – A ticket for alghero, please?
Vorrei comprare un biglietto per (Sassari), per favore. – I would like to buy a ticket to (Sassari), please.
Dov'e il binario (uno)? – Where is platform one?
Il treno è in ritardo. – The train is late.
C'è un ritardo di (cinque) minuti. – There is a 5-minute delay.
Qual è la prossima fermata? – What is the next stop?
È questo il treno per…? – Is this the train for…?
Sola andata – Oneway
Andata e ritorno – Both ways
Regionale – Local trains
Traveling By Bus In Sardinia
ARST is the public transport company that connects Sardinia towns and villages together.
Where Can I Find Timetables?
You can see the timetable at the bus stations and usually at bus stops.
Alternatively, an extensive list of bus routes in Sardinia can be found on the ARST website, it allows you to download the timetables as a PDF. It can be a difficult website to navigate. I recommend using the search below if you are looking for bus times in Sardinia.
This search works for regional bus services, urban buses, and airport buses.
Is Traveling By Bus Expensive In Sardinia?
The fares are reasonable, only slightly more expensive than train fares at the same distance. Short trips can be as little as €1.30, whereas journeys the length of the island are just under €20.
Where To Buy Bus Tickets?
You can buy tickets at bus stations prior to travel. In smaller towns, you should be able to buy a ticket from the local tobacconist or bar. In most cases, you should be able to buy a ticket with the drive, but the best practice is to buy them before boarding.
Limited Routes On Sundays
On Sundays and during holidays the bus services are cut back, meaning there could only be one or two services on this day or none at all. It is easy to get stranded in Sardinia when traveling on a Sunday, especially when traveling to smaller towns inland. Make sure that you check the times online before traveling.
Tourist Bus Pass
A tourist bus pass can be purchased by non-resident visitors, from 1st June to the 30th September. This pass will permit access to all ARST services excluding the Green Tourist Train. There are four types of passes, for different durations.
A 7-day pass is €45
A 14-day pass is €70
A 21-day pass is €100
A 28-day pass is €130
These tickets can be purchased in any ARST ticket office (Cagliari, Sassari, Oristano, Nuoro, Olbia, Lanusei, Guspini, Iglesias).
Italian Phrases That May Be Helpful
Dov'e la fermata di autobus più vicina? – Where's the nearest bus stop?
Quale autobus devo prendere per raggiungere l' aereoporto? – Which bus do I take to get to the airport?
Quanto frequenti sono gli autobus? – How frequent are the buses?
Quando c'è l'ultimo autobus? – When is the last bus?
Ho perso l'ultimo autobus? – Have I missed the last bus?
Ci sono posti liberi? – Are there any free seats?
Questo posto è occupato. – This seat is taken.
Qual è la prossima fermata? – What is the next stop?
If the public transport network of Sardinia doesn't seem viable for you. Then you should look at renting a car. You can read my guide to renting a car here.