Depending on which region of Sardinia you are the name may be different, but they are most commonly known as Seada, with Seadas being the plural. Seadas is one of the best-known and popular dishes in Sardinia. It's a sweet treat which manages to encapsulate Sardinia in every bite.
Seada is a semolina dumpling, filled with Pecorino cheese, and topped with honey.
The dessert has its origins in Barbagia before it made its way to other parts of the island with a long history of sheep farming like Ogliastra, Gallura, and Logudoro.
From Savory To Sweet
Today, Seadas is treated as a dessert, but they were originally a savoury dish made with simple ingredients to be enjoyed by the shepherds. Much of Sardinians cuisine and culture has its roots in the pastoral culture of Sardinia. Frugal, simple, and nourishing.
Sardinia has a wide selection of tasty treats for every occasion, but for me, the Seada is the greatest. A must-try for any visitors to the island.
The only sweet ingredient is the honey or sprinkling of sugar on top. All the ingredients are from Sardinia and have been widely available for centuries. In todays recipe, there is a careful balance between the taste of a local
Just imagine fresh pecorino cheese, and local honey, trust me this combination creates a very satisfying dessert.
The best Seadas are those that are freshly made by hand using the best ingredients. You can always find them during Sardinian festivities throughout the year. They have always been part of religious events in the heart of Sardinia.
Each year in Sardinia, there is an event which aims to find the best Seada in all of the land. Aside from finding the best Seada the event promotes the high-quality dairy products and agriculture knowledge of Sardinia.
Today, you can find Seadas in the supermarkets across Sardinia, but it doesn't compare to the artisanal Seada which bursts with flavour and retains its humble appearance.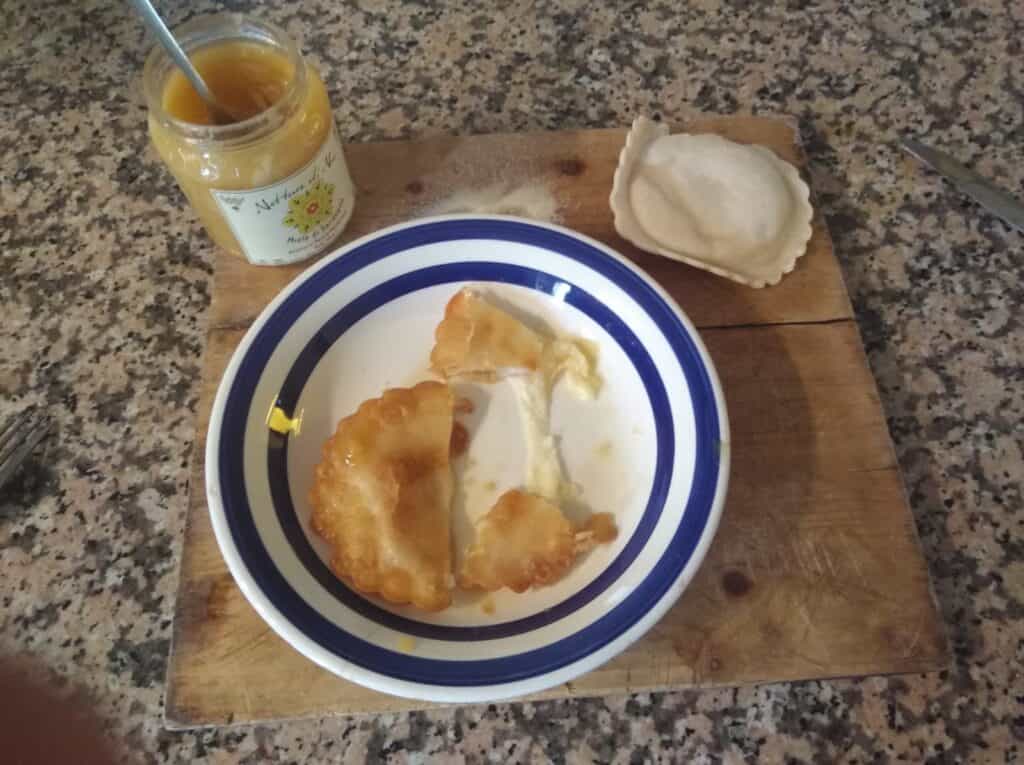 The Nine Ingredients Of A Traditional Seada
The original recipe consists of nine ingredients: Fresh pecorino cheese, semolina, eggs, lard, olive oil, local honey, salt, fresh lemon juice, and orange peel.
To make the pastry involves an intense effort on the part of the baker. The cheese filling goes inside the pastry while the edges are shaped to give its unique and aesthetically pleasing appearance. Similar to the way ravioli are formed.
This cheese-filled pastry is between 12-16cm in diameter, and 8-10mm in hight depending on the amount of cheese inside. When its made fresh it should be cooked within two days, before it becomes dry.
The Seadas are traditionally cooked in olive oil. The honey is added at the end or added to the oil for the final frying. To give its crispy and caramelised texture.