So you have heard about the incredible beaches of Sardinia, but it's a big island, and you may be wondering where's best to stay in Sardinia for the best beaches. Come with me through this blog post and I will tell you about the six areas that I believe are home to the best selections of beaches.
The beaches are the biggest factor that entices holidaymakers to make the trip to Sardinia. It's no surprise that Sardinia has some of the best beaches in Europe, yet somehow Sardinia remains under the radar (my site doesn't reach that many people yet and Sardinians don't feel the need to get marketing savvy, they prefer authenticity) The simplest way to express the beach situation is that Sardinia has a large supply of incredible beaches, and yet with a low relativity demand. Aside from July and August when the Italians take their summer break.
This means that you can find beautiful beaches, with yours being the only footprints across the sand. The more popular beaches will draw crowds, especially in the summer, but Sardinia is a large island with hundreds of great beaches so you can find you perfect places to stay, whether you want to stay in a town, resort, or countryside in the coast.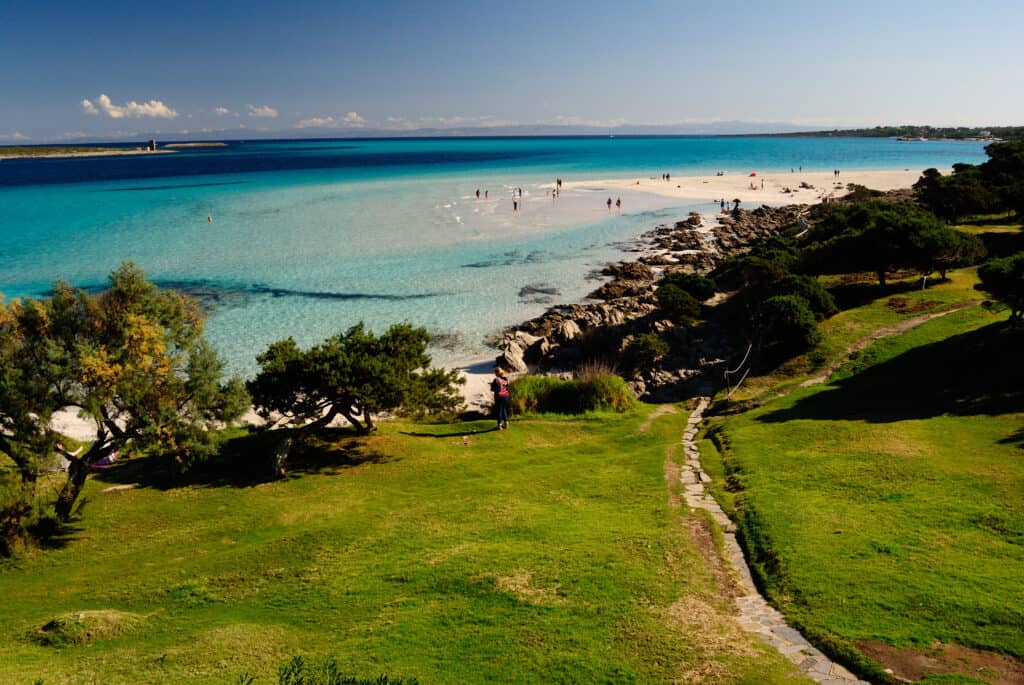 The First Area: Alghero, Spiaggia di Mugoni, and Stintino
Alghero is the closest Airport, and if you chose to arrive by boat Porto Torres is further to the north this cluster of beautiful beaches. This area has good value accommodation in locations a stone's throw away from mesmerising beaches. The Catalonian-inspired city of Alghero sits in the centre of this beach zone and offers tourists everything they would want, including hostels for backpackers, fine dining, and transport links. I think you will be pleasantly surprised by the city walls and chic city streets. If you are willing to drive up the coast, you will reach famous beaches such as Spiaggia La Pelosa, Spiaggia Delle Saline, and Capo Lupo.
The Second Area: Costa Smeralda
This area of Sardinia is by far the most famous. Celebrities, Royalty, and Millionaires have been coming here for years, it was even home to the most expensive hotel in the world (I'm not sure if that's still the case) This area is packed with beautiful beaches like Spiaggia Cala Granu, Spiaggia Poltu Di Li Cogghj, and Spiaggia de La Sciumara. In fact, wherever you go in this area you will find spectacular beaches. It has to be said that this region is heavily commercialized, packed with luxury stores, and overpriced restaurants, it can feel inauthentic and un-Sardinian. Although it is clear to see why many choose this area for their vacations. Finding accommodation can be more difficult, especially on a budget. The Costa Smeralda is very expensive compared to all other areas of Sardinia, but I can assure you that it is not the exclusive home of Sardinians beaches, in fact, the most beautiful beaches to be found in Sardinia are outside of this territory.